"China and Vietnam have reported major new bird flu outbreaks, as Japan moved to cull 180,000 chickens at a farm where signs of the virus were found.
The lethal H5N1 virus killed nearly 9,000 chickens in China's Liaoning province and 3,000 birds in Bac Giang province in Vietnam, officials said.
Japanese officials said tests showed 80 chickens in Ibaraki had been exposed in the past to a virus from the H5 family. But the chickens had survived, and no active virus was found.
Further tests are needed to identify its exact strain.
The H5N1 virus has killed millions of birds across Asia, and millions more have been culled in an effort to stem the spread of the virus. At least 60 people have also died of the disease, since its resurgence at the end of 2003. There are fears the virus could mutate into a form that passes easily between people.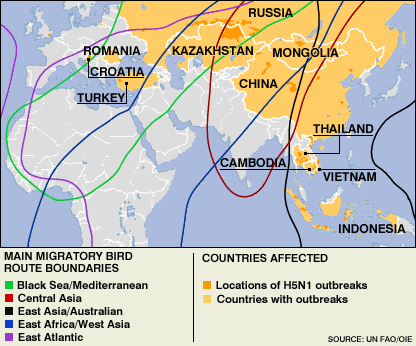 China's new outbreak - the fourth in three weeks - occurred on 26 October, the agriculture ministry said in a report posted on the website of the World Organisation for Animal Health."