"March 11, 2006 | This week in San Diego, 64 hunched and pensive brainiacs have been competing for the coveted title of United States Chess Champion. The winner, to be decided Sunday, will take home $25,000.
That's chump change compared to the millions that young stars like Daniel Negreanu are making in poker. But there's plenty at stake for 18-year-old Hikaru Nakamura, the controversial boy king defending the crown.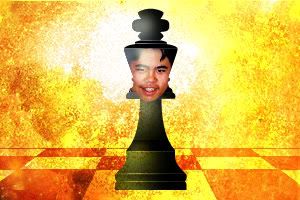 This stocky Asian-American teen from White Plains, N.Y., is shattering the history books to become America's winningest chess prodigy ever. By 10, he achieved the rarefied title of master. At 15, he was the country's youngest grandmaster. In December 2004, he sealed his coronation by taking home the 2005 U.S. championship. As of Friday morning, after seven long and brutal days of play, he's in the top three of his group, and gunning for a repeat.
But don't call him a geek. While chess gets written off as nerd play, Nakamura represents a brash new generation of champs reared on video games, hip-hop and the Internet. Known for his speed and aggression, he has been dubbed 'the world's most impolite player' -- fighting words in one of the last sports that still prizes modesty and grace. While other players discuss the art and beauty of chess, Nakamura talks like a street fighter. After getting skipped over one year for the chess Olympiad team, he crushed a rival player and called it 'payback.' In one notorious interview, he cockily anointed himself the best player in America and deemed his peers conniving foreigners. 'There aren't really any 'American' grandmasters that are higher rated than me,' he said. 'That's actually why I still work alone. It's very hard to trust anybody.'
He's just as brash in play. While grandmaster etiquette calls for accepting a draw during a deadlocked game, Nakamura consistently breaks rank by refusing to concede. "I don't give up!" he snaps by way of explanation. Online, he's nicknamed "the King of Blitz" for his top-ranked mastery of high-speed smackdowns. Opponents have been known to strike back beyond the board. During one tournament, a kid got so angry he allegedly chucked a basketball at Nakamura's head. But Nakamura has only been emboldened by his bad-boy image. As Dirk Jan ten Geuzendam, editor of New in Chess magazine, puts it, "Nakamura likes being the fighter and the loner. He's the lone American taking on the world."
Nakamura's potent brew of balls and brains has earned him the obvious comparison: Bobby Fischer. But for Nakamura, Fischer, the wunderkind who became a wild-eyed, long-bearded paranoid, who vanished mysteriously during his prime, serves also as a cautionary tale. "He played too much chess and went crazy," says Nakamura. "I'm not a mad genius."
But his experience serves as a sort of modern parable about the game. Nakamura rode the fuel of new technologies to become a powerhouse player. But his hard, fast rise has left him feeling burned out and, unlike his coddled peers in Europe, ready to pull the plug. "When it's this hard to make a living," he says, "you're not going to keep the talent in the game. Eventually, they have to go into other things."
Click on the title to read more