"Arthur C. Clarke, a writer whose seamless blend of scientific expertise and poetic imagination helped usher in the space age, died early Wednesday in Colombo, Sri Lanka, where he had lived since 1956. He was 90.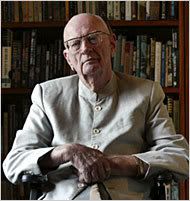 The author of almost 100 books, Mr. Clarke was an ardent promoter of the idea that humanity's destiny lay beyond the confines of Earth. It was a vision served most vividly by "2001: A Space Odyssey," the classic 1968 science-fiction film he created with the director Stanley Kubrick and the novel of the same title that he wrote as part of the project.
His work was also prophetic: his detailed forecast of telecommunications satellites in 1945 came more than a decade before the first orbital rocket flight."
Read the full coverage in the New York Times
here
.
I grew up reading Science Fiction, and Clarke's 'Childhood's End' had a profound effect on me.

Years later, the Wall Street Journal ran a front page article on 'Dragutin', which was the name I gave to my table tennis practice robot, which I had to help me prepare for the '88 Olympics. Clarke had the same machine, and the last paragraph of the article mentions him here.