From the NY Times:
"I'VE been watching the bumblebees flying around the kitchen porch of our old farmhouse in Maryland, and wondering if they have a nest nearby, maybe under the eaves. They like shady spots, protected from the wind and the rain. There are probably some mason bees, too, holed up in the old boards of the barn, or in holes drilled by wood beetles in the trunks of dead trees.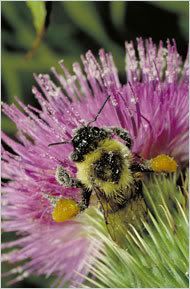 The bumblebee and other native wild bees are all the more important in the garden now that the population of honeybees is in such decline — down to 2.4 million colonies last year from 5.5 million in 1945, according to the Department of Agriculture, due mainly, scientists say, to mites infesting the hives and, lately, to a mysterious epidemic called colony collapse disorder."
Read the entire article
here
.