From the New York Times:
Wang Chen is one of two American table tennis players ranked high enough in the world to automatically qualify for the Olympics this summer in Beijing. Yet she has no coach and she receives no direct financing from the sport's national governing body.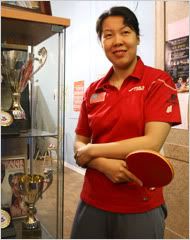 Joyce Dopkeen The New York Times
What Wang does have is the support of Jerry Wartski, a 77-year-old New York City landlord who, like Wang, ended his formal education at 9 and was separated from his family, albeit under entirely different circumstances. He is a Holocaust survivor.
Read the whole story
here
, as well as watch a very nice video.
Read
Just Don't Call it Ping Pong