Gandhi Loyalists Appalled by $23,000 Commemorative Pen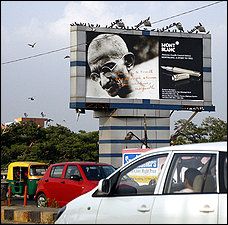 By Emily Wax
Washington Post Foreign Service
Saturday, October 3, 2009
NEW DELHI, Oct. 2 -- Images of Mohandas K. Gandhi, the father of modern India and an icon of asceticism and nonviolence, have ended up in some unlikely places before, including in ads for Apple computers and on counterculture T-shirts.
But it's fair to say that the latest incarnation may be the most ironic: Gandhi, in his signature loincloth, hawking a $23,000 fountain pen named in his honor.
The limited-edition Montblanc fountain pen in 18-carat solid gold is engraved with Gandhi's image and tricked out with a saffron-colored mandarin garnet on the clip and a rhodium-plated nib. Unveiled in honor of what would have been Gandhi's 140th birthday on Friday, the pen has prompted howls from Hindu groups and Gandhians, who say the sticker price is the lifetime income of many of India's poor while the Center for Consumer Education in the southern state of Kerala has sued to stop sales of the pen, calling it "a mockery."
Click the title bar to read the entire article