"The discovery of a birdlike dinosaur in South America has paleontologists rethinking when, where and how one group of raptors evolved.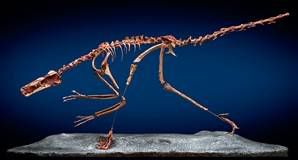 The rooster-sized dinosaur is called Buitreraptor (bwee-tree-rap-tor) gonzalezorum. It has a long head and long tail and winglike forelimbs. Its serrated teeth, shaped like steak knives, suggest it was a carnivore.
Buitreraptor is related to Velociraptor, the presumably cunning killer made famous by Hollywood. Both belong to a class of birdlike dinosaurs that ran swiftly on two legs and are called dromaeosaurs."