"A RETIRED school teacher, who has hand-written the church electoral roll in Horsted Keynes for the last 20 years, is hanging up his pens.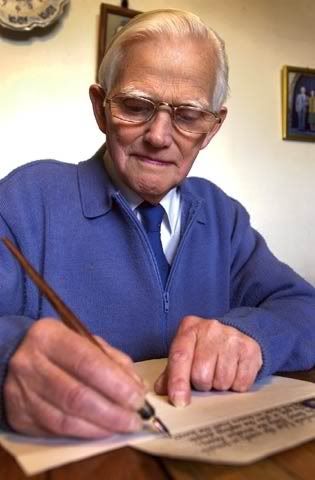 Bob Cullens, 82, of Highbrook, took up the job of listing all the names and addresses of parishioners at St Giles' Church after attending an evening class in scribe work.
Though his predecessor had typed the list of 130 names, Bob said he got a lot of pleasure from his writing and every year he re-wrote the document by hand using a variety of nibs and a pot of ink.
Bob said: 'I was never good at typing, and hand-written script is one of the things I've always wanted to do.
'With all the various fonts you can get with a PC, you can get some splendid work but there was something about having it hand done. We like hand-made things, like hand knitted jumpers.'
Bob, who also makes and decorates ornate cakes on request, said he used to spend more than five hours in half hour sessions on his labour of love which could often be frustrating.
He said: 'You have to think a long way ahead because it has to be completed before a certain time and there are always people who don't think about putting their name forward until the last week, so often names have to be added at the end.'
Bob finally decided to pass the job on so he could look after his wife. He said: 'I don't think my writing is as good now. My hand is fairly steady but I'm past my prime. I decided to give up because my wife was ill and I have to spend my time with her. So I no longer go to church regularly and I'm getting out of touch.'
The role will now pass to ex-postmaster Jim Brimfield of Horsted Keynes. Bob said: 'It's up to Jim how he will present it but I expect he will type"