"A British granny is a hit in Germany after she turned up to compete in an international table tennis championship - at the age of ninety-five.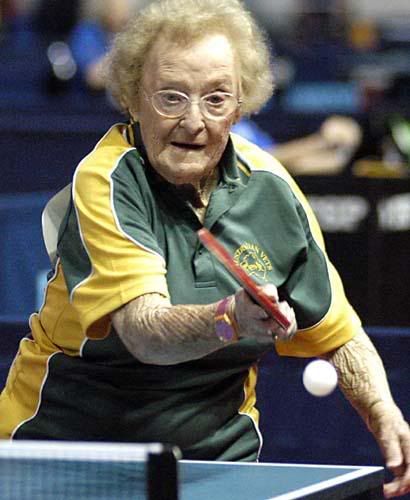 Dorothy de Low is the oldest competitor at the World Veteran Table Tennis Championships in Bremen, northern Germany.
The pensioner, known as 'Doddy', has become a celebrity in Germany since her arrival, giving a string of radio, TV and newspaper interviews.
She has been playing for 40 years and has already competed in nine previous international tournaments, winning a number of medals including the over-80s world championship in Dublin in 1992, the over-60s women's doubles in New Zealand in 1989 and the women's doubles in Baltimore in 1990.
The British-born woman, who has moved to Australia and now lives in Sydney has this time brought her own coach, Australian table tennis champ Paul Pinkewich, to give her last minute playing tips."