"A giant statue of Pharaoh Ramses II will be moved next month from a congested square in downtown Cairo to a more serene home near the Great Pyramids in a bid to save it from corrosive pollution, Egypt's antiquities chief said Monday.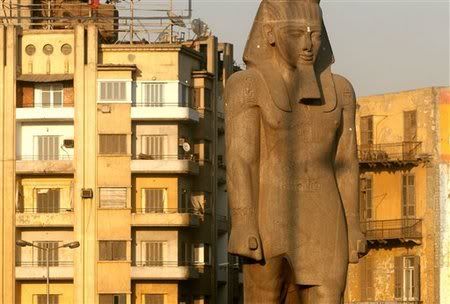 Exhaust fumes from trains, cars and buses, as well as subway vibrations, are damaging the more than 3,200-year-old granite statue at Ramses Square, its home since the early 1950s, when it was taken from a temple at the site of the ancient Egyptian capital of Memphis.
The 125-ton statue - a popular feature on postcards and guide books - will become part of a new museum about a mile from the pyramids.
...Ramses II was a warrior king who is credited with bringing Egypt unprecedented power and splendor during his 67-year reign. He died in 1225 B.C."