"A hotel tycoon's dream of building an inflatable commercial space station is taking a step toward reality - or a reality check - with the launch of a satellite that will test the technology behind the orbital outpost.
The fact-finding mission scheduled for this week will explore the feasibility of Robert Bigelow's planned commercial space complex. When finished by 2015, he said, it will consist of balloon-like modules strung together like sausage links and serve as a hotel, laboratory, college or entertainment venue.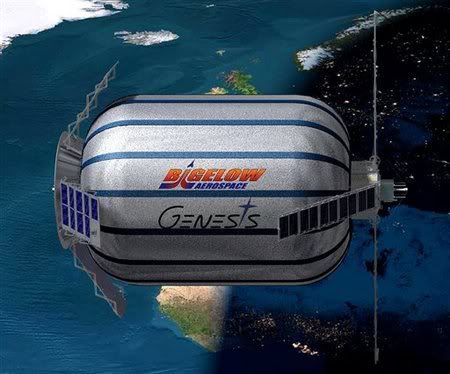 Artist's rendering of a Bigelow module
The planned liftoff from Russia of Bigelow Aerospace's privately funded Genesis I spacecraft will mark the beginning of the startup's attempt to break into the fledging manned commercial spaceflight business.
Bigelow, who made his fortune with the Las Vegas-based Budget Suites of America hotel chain, has remained mum about the exact launch date of the prototype. But the Russian space agency Roskosmos posted on its Web site that Genesis was scheduled to launch Wednesday aboard a converted Cold War ballistic missile from the Dombarovsky missile base in the southern Ural Mountains."