Beam weapons almost ready for battle - Space.com - MSNBC.com
: "There is a new breed of weaponry fast approaching -- and at the speed of light, no less. They are labeled 'directed-energy weapons,' and they may well signal a revolution in military hardware -- perhaps more so than the atomic bomb.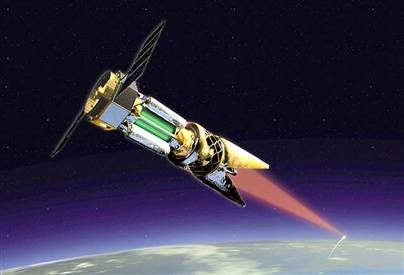 Directed-energy weapons take the form of lasers, high-powered microwaves and particle beams. Their adoption for ground, air, sea, and space warfare depends not only on using the electromagnetic spectrum, but also upon favorable political and budgetary wavelengths too.
That's the outlook of J. Douglas Beason, author of the recently published book 'The E-Bomb: How America's New Directed Energy Weapons Will Change the Way Wars Will Be Fought in the Future.' Beason previously served on the White House staff working for the president's science adviser under both the Bush and Clinton administrations."