"Through rain and sleet and dead of night and all that, your letters next winter can be delivered bearing snowflakes artfully photographed by a physicist who weathers those same storms to study nature's crystal magic.
Starting in October, the U.S. Postal Service will issue a set of four stamps featuring pictures of snowflakes taken by Kenneth Libbrecht, a professor of physics at the California Institute of Technology.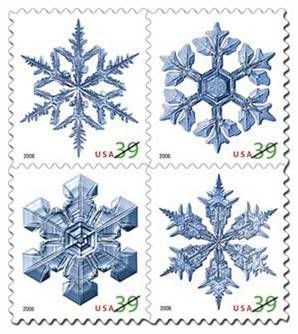 For years, Libbrecht has been studying the physics of snowflakes, looking at the different patterns of crystal growth and snowflake formation."
Click the title link to read more and see snowflake photographs.